Windows in ADPOL 105 system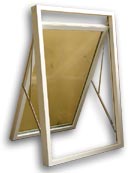 Windows in ADPOL 105 system (Scandinavian) are the expansion of the offer of ADPOL to meet the needs of Scandinavian market.
This is the traditional construction for Sweden, Norway or Finnland, which is ideal for their cold climate. The whole wing is opening outside with the mode of swing for cleaning from outside.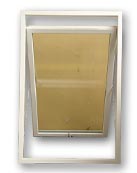 Technical details
The hopper window in ADPOL 105 system- opens and closes from outside only. It is useful in the following cases:
closed sash is pushed to the frame clump with the strongly blowing wind,
opened sash does not occupy any interior room - because it opens outside.
In this kind of windows system we have opening function like:
horizontal revolving windows

tilt windows – outwards opening

vertical revolving windows

windows – inwards opening
These hopper windows in ADPOL 105 system sells very rather difficult in Poland, however they can be useful in eg.bathrooms and kitchens where thers is only limited place disponible and window flower pots want to be used.
---
Technical data
| | |
| --- | --- |
| The frame | 3-leyer plywood gluing 105x56 mm |
| The casement wing | 3-leyer plywood gluing 56x56 mm, the sash opens outside, pivoting axel in either horizontal, or vertical positions |
| The fittings | IPA fittings |
| The colouring | standard colours (white, brown according to RAL 8016 teak, dark oak, dark sipo, and mahogany colours) There is possibility of any covering colour according to RAL pallet, or other transparent colour |
| The fillings | compound glazing ( two panes package) thickness 24 mm; thermic coefficient U= 1,0 and glazing of more thermic insulation possible. There is possibilety to apply safety glazing, anti-break in security glazing, ornament,reflex and safety panes, stain glass panels and other |
| Window bars | The compound glazing inside window bars- width 8-:45 mm;t he glued on glazing and the Vienna style bars- width 20-: 45 mm; structural window bars- width from 55 mm onwords |
| Additionaly | glazing inside boarding strips, on the lower sill of casement external aluminium drip cap |
---
Schedule of materials and accessory used.
pine wood, or mahogany- red meranti. Oak, litch, durian, canadian cedar and other wood timbers in option;
Acrylic vernish colours by GORI,
overcut seal profiled,
natural silicon for glazing outcut packing,
IPA handle,
IPA fittings,
Supplementary accessory possible eg: window ventilators.
---
Profiles available