PSK sliding/ hopper balcony doors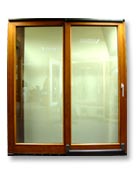 The balcony door awning – slide PSK is a very interesting solution and alternative for traditional two-wings balconies. They do not open as normal wings, the movement is paralel to fixed wing (one wing fixed and second mobile). Such opening does not take place of the room and gives impression of more space in the hole. The maximal width of the whole construction amount to 4m (using ironmongery of Siegenia PSK). Problems with closing wings of big dimentions, particulary very high wings (there is need to tighten the upper part of wing to the frame) could be a disadvantage of this product. However, this is a very popular construction used by architects and investors.
---
Technical details
There are several variations of PSK balcony window who differ by type of glazing package applied. This means the safety glazing or P2 and P4 glazing packages, which is important for doors of glazing dimentions like 1600x 2200 mm. The window glazing bars can also be applied and the vernish colour can be applied according to Adpol pallet or on an individual Client`s order. One should remember that as the door is slid off, an aluminium threshold appears as a dividing doorstep which height is 70-: 80 mm .There is no possibility of making a low threshold doorstep with this type of balcony door
---
Technical data
| | |
| --- | --- |
| The frame | 3- layer plywood gluing, width:68x80 mm (PS standard profile type , PSF softline profile type, decorative profile: A,B,CandD types as wellas AL wood-aluminium profile) |
| The casement wing | 3-layer plywood gluing, lower horizontal sill 68 x 137 mm |
| Maximal sash width | 2000 mm |
| The fittings | Siegenia PSK fittings |
| The colouring | standard colours (white, brown according to RAL 8016; teak, dark oak, dark sipo, mahogany colours) There is possibility of any covering colour included in RAL pallet, or another transparent colour |
| The fillings | glazing (compound two panes package) thickness 24-: 42 mm; thermic coefficient U= 1,0 and of more thermic insulation possible. There is possibilety to apply safety glazing, anti-break in security glazing, ornament, reflex safety panes, stain glases and other |
| Window bars | The compoud glazing inside window bars- width 8-:45 mm; the glued on glazing and Vienna style bars- width 20-: 45 mm; structural bars- idth from 55 mm onwords |
| The cap | aluminium with thermal barrier, white or olive colour, or anodised, silver, olive or golden colour, or, against additional payment, any RAL colour (powder painting) |
| Structure system | variety of of PSK sliding door types |
---
Schedule of materials and accessory used.
pine wood, or mahogany- red meranti, oak, durian, litch, canadian cedar and other woods in option;
Acrylic vernish colours by GORI,
overcut seal, or clumping seal profiled,
natural silicon for glazing outcut packing,
PSK System handle,
SIEGENIA fittings,
supplementary devices possible: casement opening limiter, handle lockable with key, window ventilators and other.
---
Profiles available