HS-300 sliding door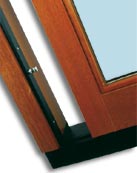 The sliding door HS 300 has been one of the most popular amoung Adpol`s products within its Clients, lately. This sliding door type is "compeeting" with hopper-sliding door PSK. There are, in our oppinion, four characteristic feateres that make the HS 300 door choice better:
after the door is fit in the opening, treshold highest point emerges only to 10-: 12 mm above the floor level",
no apparent giding rails, no upper nor lower,
maximal sliding door width (when devided into several leaves) up to 15 m,
simple closing and opening manners (handy and electric pilot).
there is possibillity to make corner-terrance doors without mullion construction.
This sliding door structure is perfect for openings between eg. dinning or living rooms and terrace, or garden entrances. No obstacle across doorstep means a comfort expected by a number of our Client.
---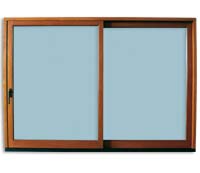 Technical details
The architects often design entire floor height glazing. The PSK sliding door with its maximal height upto 2700-: 2800 mm is ideal than. The character "300" means that the maximal weight of a sliding sash can be up to 300 kg- it is rather a heavy weight, whereus maximal sash width is 3300 mm. It can be seen that using this structure gives lots of possibilities when big glazing surfaces.They can be maintained easily. It should be remembered that for the safety sake, the safety glazing panels should be used for this slidind door.
---
Technical data
| | |
| --- | --- |
| The frame | profile section 56x171 mm |
| The casement wing | 3- layer plywood gluing, profile section 68x92; 68x140 mm |
| The fittings | Siegenia HS- 300, maximal sash weight: 300 kg; maximal sash width: 3335 mm |
| The colouring | standard colours (white, brown according to RAL 8016, teak, dark oak, dark sipo, mahogany colours) There is possibility of any covering colour included in RAL pallet, or another transparent colour |
| Wypełnienia | glazing compound ( two panes package) thickness 24-: 42 mm; thermic coefficient U= 1,0 and of more thermic insulation possible. There is possibilety to apply safety glazing, anti-break in security glazing, ornament,reflex, safety panes, stain glass panels and other |
| Window bars | The compound glazing inside window bars- width 8-:45 mm; the glued on glazing and the Vienna style window bars- width 20-: 45 mm; structural bars- width from 55 mm onwords |
| "without sill system" | Threshold with thermic fearher imbued in the floor |
| Maximal width | up to 15 m wide depending on the pattern used |
---
Schedule of materials and accessory used.
pine wood, or mahogany- red meranti, oak, durian, litch, canadian cedar and other woods in option;
Acrylic vernish colours by GORI,
overcut seal, or clumping seal profiled,
natural silicon for glazing outcut packing,
handle for sliding HS-300 door,
SIEGENIA fittings
---
Profiles available