Dutch window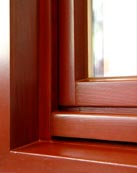 Window dutch style is an advanced ADPOL 68 SYSTEM technology. Main and only difference is the thickenning of frame visible from the external side. A stuck on supplementary strip in section 47 x56 gives a solid look to the window, themal insulation parameters are also strenthend
---
Technical details
Dealing with window dutch style- the structure based on ADPOL68 SYSTEM, it`s important that this window type lets achieving its final look as desired. Such window features like: wood type, wood colour, glazing, ventilators or garnishing elements are not the only ones we can talk about while choosing the dutch style window
---
Technical data
The frame
3-layer plywood gluing, breadth: 68x 80 mm (PS standard profile, PSF softline profile, garnish profile of type A; B; C and D) with suplementary trapezium strip 47 x56 mm, stuck on a frame
The casement wing
3-layer plywood gluing, breadths like above- without enlargements,
Maximal casement dimention
width:1400 mm, height: 1700 mm; ( hopper and french opening casement),
width:1600 mm, height: 800 mm; ( hopper opening sash)
The fittings

fittings SIEGENIA, as standard equipment WK0 ( 1 hitch with higher anti brake-in security resistance, lever of casement with supporting roller).There is possibiliety to apply iron fittings of higher security level WK1 and WK2

The poste
mobile poste- concerns double casement window only
The colouring
standard colouring (white, brown RAL 8016, teak, dark oak, dark sipo and mahogany colours). There is possibiliety to apply any covering colour according to RAL pallet, or another transparent vernish colours
The fillings
compound glazing panels, gauge: 24-:32 mm; thermic insulation coefficient U= 1,0 and lower. Possibiliety of applying glazing panels of higher anti- burglary security level, ornament panes, reflex panes, security panes, stain glas panels and other.
Window bars
The inside compound glazing bars, thickness: 8-45 mm; glued on & the Vienna style window bars 20-45 mm; structurals: 55mm onwords
The cap
aluminium cap with thermic feather in standard colouring:( white, silver, brown, olive green and gold colours). Any colour according to the RAL pallet is available on extra fee
---
Schedule of materials and accessory used.
wood: pine, mahogany or red meranti. Oak, larch, canadian link and other in option;
acrylic vernish colours by GORI,
rebate seal and overcut seal profiled,
neutral silicon for glazing overcut packing,
SECUSTIK handle,
SIEGENIA fittings,
Window suplementary accessories possible: casement opening limiter, key lockable handle, hopper window opening mechanism eachable from the groud, blow-in air ventilators and other.
---
Profiles available