Bifold doors
Bifold door, ADPOL 68 Systems.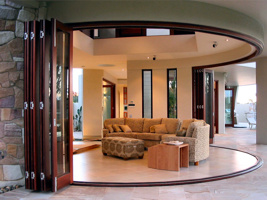 BIFOLD DOOR Adpol 68 E3 and Adpol 68 E4 systems, are the newest way of opening to fulfil your dreams. We offer new solutions for apartments, summerhouses, for each shop and restaurant, as well as for swimming pools. It is very important for us that the system is as hidden as possible, perfectly composed with a structure of the building, to obtain optimum passage from building interior to the world outside.
Folded walls change your balcony or terrace to a whole-year room. Moreover, the walls of this type are perfect for use inside the building. You may divide your room with the use of bifold door made of wood, and obtain delightful mood and individual shaping. Flexibility and possibility to meet individual Customer needs and architectural solutions are most important features.
---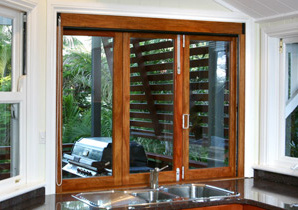 Technical details.
We produce wooden bifold doors without sill in Adpol 68 E3 and Adpol 68 E4 systems. Maximum leaf size may be 1000 x 3000 for E3 (weight 80 kg) and 1000 x 4000 for E4 (weight 120 kg) and maximum number of leaves is 16. Low sill may be obtained for internal installation.
Also, individual leaves may be provided with bars, which give interesting and unconventional structure appearance. Bifold doors are designed for larger rooms, where large passage (e.g. from a room to terrace) is obtained after the door wings are opened (folded). A perfect solution for summer!
---
Technical data.
| | |
| --- | --- |
| Frame: | glued wood, cross-section 45x157 mm. |
| Wing: | three-layer glued wood, cross-section 68x80 mm. |
| Fittings: | Centor, low-sill aluminium rail. |
| Colour: | standard (white, brown RAL 8016, teak, dark oak, dark sipo, ma-hogany), possibility to choose any colour from RAL palette or an-other transparent colour. |
| Surface: | glass panel packets (glued glass panels), thickness 24-32 mm, coefficient U=1,0 and less, possibility to choose glass panel packets of higher resistance to robbery or decorative, reflecting or safe ones, as well as stained-glass panels, and many others. |
| Bars: | between glass panels bars, 8-45 mm wide, glued and Vienna ones 20-45 mm wide, construction bars, width from 55 mm |
| External dimensions: | according to the range and scheme of fittings used (maximum wing size is 1000x3000 mm and 1000x40000 mm). For Adpol sys-tem, wings open outside and inside, also convex opening is pro-duced |
---
List of intermediate products and fitting components used.
Pine or red meranti wood, eucalyptus. optionally: oak, larch, Canadian cedar, etc.
Water soluble paints from GORI.
Profiled rebate gasket.
Neutral silicon to seal panel notch.
Centor fittings.
---