Balcony door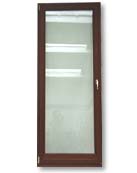 Balcony-door is the extension of the offer for standard exit to the balcony or terrace. The most popular are one-wing balcony- and two-wing balcony-door (two wings active). The special construction is the division of balcony hole into some sections. In this case the fix glazing is needed. The balcony can be manufactured both with standard threshold and with low alu-threshold, which provides more place while getting in and out
---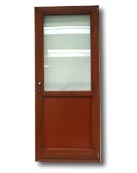 Technical details
This photo shows lower corner detail. It is wider than the standard one, due to technical needs- more rigidity needed for keeping bigger and heavier glazing surfaces than in standard windows. There is also a bigger aluminium drip cap with a ample water conducting cell becouse of more water flash from a door surface. Simillar to other structures, balcony doors can be formed in free way (shapes, colours and supplementary devices eg ventilators).
---
Technical data
The frame
3- leyer plywood gluing 68x80 mm (standard profile PS, soft line PSF, decorative profile A; B; C and D types), 78x80mm -ADPOL 78 window only
The casement wing
3- layer leyer plywood gluing, width like listed above, casement section, lower part 68x 138 mm
The fittings

Siegenia circumferential fittings in accordance WK0 standard (1 catch of higher burglary resistance and sash lift with homing) optional use of safety improving fittings meeting the requirements for WK-1 and WK-2 class,

circumferential fittings Maco Multi Matic - WK-1/A – all heads and catches used in a window are safe, therefore, this standard is similar to or, in many cases, even higher than the WK-1 standard; the safety of fittings may be increased by adding additional accessories

The poste
Mobile (concerns two casement window only)
The colouring
standard colours (white, brown according to RAL 8016, teak, dark oak, dark sipo, and mahogany colours) There is possibility of any covering colour according to RAL pallet, or other transparent colour
The fillings
compound glazing ( two panes package) thickness 24-: 42 mm; thermic coefficient U= 1,0 and glazing of more thermic insulation possible. There is possibilety to apply safety glazing, anti-break in security glazing, ornament, reflex, safety panes, stain glass panels and other
Window bars
The compound glazing inside window bars- width 8-:45 mm; the glued on glazing and the Vienna style window bars- width 20-: 45 mm; structural bars- width from 55 mm onwords
The cap
aluminium drip cap with thermic feather ( white, silver, brown, olive green and gold colours), or any colour according to RAL pallet is possible on extra fee (dry powder painting). Low threshold balcony door is possible
Maximal casement dimention
Width:1100 mm, height:2500mm,- according to Standard ITB nr AT- 15-5890/2003 Adpol System / Aprobata Techniczna na Jednoramowe Okna i Drzwi Balkonowe /
---
Schedule of materials and accessory used.
pine wood, or mahogany- red meranti, Oak, larch, durian, canadian cedar and other wood timbers in option;
Acrylic vernish colours by GORI,
overcut seal, or clumping seal profiled,
natural silicon for the glazing outcut packing,
SECUSTIK handle or Maco Harmony,
SIEGENIA fittings or Maco Multi Matic,
Supplementary accessories: opening limiter, handle lockable with key, ventilatores and other apply possible.
---
Profiles available