ADPOL Casement windows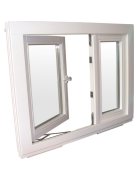 Windows of ADPOL Casement system are the most modern technological project. It is a typical British outside openable window designed for modern buildings. The windows of ADPOL Casement system meet the expectations of customers and enjoy quite an interest in Great Britain.
---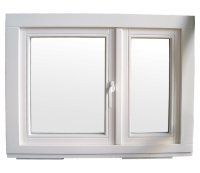 Technical details
System ADPOL Casement is based on the construction of ADPOL 68 system, profile standard PS. Although they are outside openable windows, their fixture system allows for an easy and safe access to wash the outside elements of the windows. In ADPOL Casement system all frames are of the same width.
---
Technical data
| | |
| --- | --- |
| The frame The frame | ADPOL 68: three-layer-glued laminated timber, width: 68x80 mm (profile standard PS) |
| The casement wing | ADPOL 68: three-layer-glued laminated timber 68x80mm |
| The fittings | Roto |
| The colouring | standard (white), optionally any RAL coating color or other transparent color (azure) |
| The fillings | glazing units (multiple glazed panels), thickness: 24-32 mm. Optionally glazing units with panes of increased break-in resistance, with ornamented panes, reflexive panes, safe panes, stained-glass panes etc. |
| Window bars | Intrapane one of the width 8-45 mm, glued and decorative aluminum bars of the width 20-45 mm, constructive widths from 55 mm |
| Outer sill | Optionally aluminum outer sill on a sash in standard color (white, silver, brown, olive, gold) or extra payable any RAL color (powder coating) |
| Additionaly | Trim on glazing rebate, standard set with two gaskets |
---
Schedule of materials and accessory used.
pine wood joined by finger joints or red two meranti, optionally oak, larch, Canadian cedar etc.,
waterdilutable paints of GORI company,
rabbet and rebate profiled gasket,
neutral silicone sealing glass rabbet,
handle of Roto company,
fixtures of Roto company,
optionally possibility to equip windows with additional elements like: sash opening restrictor, key handle, pivoting mechanism of upper sash from the floor level, Spilvent air inlets.
---
Profiles available