Winter gardens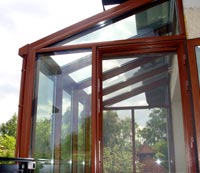 Winter-garden have recently become very popular topic among architects and individual investors. The wooden – aluminium constructions allow us to creat different shapes, partitions and functions, which atract clients. The winter-garden market is fluorishing now. The amalgemation of glass roof and glass wall "glass in glass" is 100% protection of drainage from upper part of roof. We take care also of appropriate ventilation of the construction. The ventilation system is very important due to big quantity of moisture and high temperature e.g. in summer time. The Siegenia company proposes such solutions, which proves unreserved in many houses of our clients. Due to the specifics of the construction solution preparation of offer and technical documentation require meeting between our consultant and investor with his/her architect.
---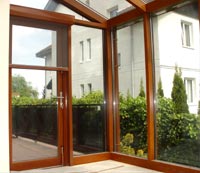 Technical details
Winter garden as a wooden structure – wood element section dimentions 55-: 100 mm, with aluminium coating by Bug-Alutechnik or Gutmann, which are tight to rain water penetration. The designed & made by Adpol winter garden has its characteristic as follows:
nice, light structure,
economy of heating energy,
optimal temperature in room,
high daylight transmition,
a modern ventilatin system,
courtain obscuring system which works easily.
Winter gardens structures can be built either with new house construction or stuck to an existing building. Lots of possibilities appear, from erecting the winter garden over small balcony to big surfaces covered with wood-aluminium and glass structures.
---
Technical data
| | |
| --- | --- |
| The structure | Structural plywood |
| Pillar`s & transom`s thicknesses | 55- 100 mm, the section dimention according to structural analysis |
| The aluminium coating system | Bug-Alutechnik or Gutmann system from the external side |
| The colouring | standard & non standard vernish colours on woodork according Adpol`s pallet, Aluminium elements colours accordind to RAL pallet |
| The fillings | compoud glazing, gauge: 24-42 mm, thermic insulation coefficient U=1,0 and lower. There is possibiliety of applying anti- burglary glazing, ornament panes, reflex panes, safety panes, stain glass panels and other |
| The assembly | Assembling of woodwork structural elements by Hoffmann system junctions |
| The tighting | according to Illbruck system |
| Aeration | according to Siegenia system |
---
Schedule of materials and accessory used.
pine wood, mahogany- red meranti, oak, larch, canadian cedar and other wood timbers;
Acrylic vernish by GORI,
Aluminium external coating, by BUG- Alutechnik or Gutmann.