System EKO 68 78 88 window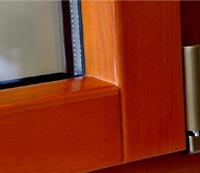 "system EKO 68, EKO 78 , EKO 88 window" is the latest technological undertaking of Adpol Enterprise. The combination of wood and aluminium extends the carpentry working life of and elevates thermic insulation properties of a window. Similar to the wood- aluminium windows with aluminium coating by Holz-Plus. Any colour of the aluminium from the RAL pallet is possible for the exterior side and any colour of wood for the inside. The "system EKO window" means in addition very nerrow visible dimentions of the frame that are no wider than 103mm (in case of a wooden window it is 119 mm and 136 mm wide).
---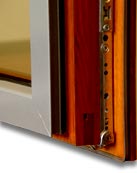 Technical details
The cart below shows technical paramiters of the system EKO 68, 78 window type. The most advantageus element is its long period of guarantee: upto 120 month which results from the high quality materials used for production of a window and thus practicaly no weather condition influence on it. Imagine!: you are buying a window that does not have to be repainted for 10 or more years! -It`s unbelivable!- and confortable, isn`t it?
---
Technical data
The structure

EKO 68
EKO 78

EKO 88

The frame
3-layer plywood gluing, standard thickness profile: 68x 46 mm - EKO 68, and section: 78x46- EKO 78, 88X46 -EKO88 ; standard casement profile section 68x 71 - EKO 68 as well as section 78x 71 - EKO 78 , 88X71-EKO88
The aluminium coating system
external aluminium coating with Aluron Clasic, Aluron Softline
The poste
mobile poste (standard) or fix mullion (concerns double casement window only)
The colouring
the woodwork colours according to stamndard & non- standard colours of Adpol`s pallet, the aluminium coating according to RAL pallet
The fittings

fittings SEGIENIA, in standard: WK0 (1 hich with higher anti- burglary resistance, lever of casement with supporting roller). WK1 and WK2 fittings of higher security level can be applied

The fillings
complex panels, gauge: 24-42 mm , coefficient U= 1,0 and lower, dry seal glazing . Glazing of higher anti- burglary security as well as ornament, reflex and safety panes, stain glass panels,and other can be applied
Window bars
The inside comp[oud glazing bars, thickness: 8-45 mm, the glued on & the Vienna style window bars: 25; 34 mm, the structurals from 50 mm
---
Schedule of materials and accessory used.
wood: pine, mahogeny or red meranti, oak, larch, durian, canadian link etc..;
acrylic vernish colours by GORI,
seal placed centraly,
SECUSTIK handle or Maco Harmony,
SIEGENIA fittings or Maco Multi Matic,
supplementary accessory: casement openning limiter, handle lockable with key, light shot window openning mechanism reachable rom the ground.
---
Profiles available