System EKO 105 window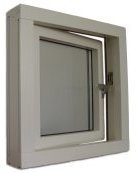 The windows in EKO 105 system to fulfil the conditions as like ADPOL 105 system with is a solution for Scandinavian window's market. This is traditional construction with you may find in Sweden, Norway and Finland is ideally to be fit for harsh climate. The sash is entirely outwards opening with turn possibility. In the addition in EKO 105 system the windows has aluminium clabe on outside window's.
Combination aluminium with wood give iunbeleivable durabilityall woodwork and what is more high thermal-isulation. As like in alu-wood window it is possible to form outside aluminium colour (according to RAL ) and inside wood colour.
---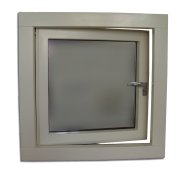 Technical details
The hopper window in EKO 105 system- opens and closes from outside only. It is useful in the following cases:
closed sash is pushed to the frame clump with the strongly blowing wind,
opened sash does not occupy any interior room - because it opens outside.
In addition windows with aluminium clabe are more resistance to atmosphere conditions.
In this kind of windows system we have opening function like:
horizontal revolving windows
tilt windows – outwards opening
vertical revolving windows
windows – inwards opening
Fittings with are use to windows are uncomplicated, this is construction simply and to turn out to be useful.
---
Technical data
| | |
| --- | --- |
| The structure | EKO 105 |
| The frame | Finger joint wood, profile 105x56 mm |
| The casement wing | 3-leyer plywood gluing 56 x 56 mm, the sash opens outside, pivoting axel in either horizontal, or vertical positions |
| The aluminium coating system | external aluminium coating with Aluvogt 2000 firmy BUG- Alutechnik profiles, Aluron company Classic systems |
| The colouring | standard colours (white, brown according to RAL 8016 teak, dark oak, dark sipo, and mahogany colours) There is possibility of any covering colour according to RAL pallet, or other transparent colour |
| The fittings | IPA fittings |
| The fillings | compound glazing ( two panes package) thickness 24 mm, 30 mm and 36 mm; thermic coefficient U= 1,0 and glazing of more thermic insulation possible. There is possibilety to apply safety glazing, anti-break in security glazing, ornament,reflex and safety panes and other |
| Window bars | The compound glazing inside window bars- width 8-:45 mm;t he glued on glazing and the Vienna style bars- width 20-: 45 mm; structural window bars- width from 55 mm onwords |
---
Schedule of materials and accessory used.
wood: pine or red meranti, oak, larch, durian, Canadian cedar, etc,
water- based paints from GORI,
neutral silicone for sealing of glass panel cut,
IPA handle,
IPA fittings.
---
Profiles available