Bifold doors
Accordion door, EKO 68 System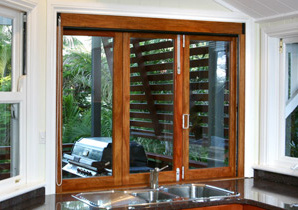 ACCORDION DOOR without sill, system Eko 68 E3 and Eko 68 E4 systems, are the other technological solution. Aluminium joinedwith wood makes that the products is very durable and ensures very good thermal insulation. Similarly to aluminium and wood windows, you may choose any external aluminium colour (according to RAL palette) and internal wood colour. Non-typical solutions for closing building openings in apartment buildings, restaurants and shops etc.
---
Technical details
The table below shows technical details for Eko 68 E3 and Eko 68 E4 system door structure.
Maximum wing size may be 1000 x 3000 for E3, weight 80 kg, and 1000 x 4000 for E4, weight 120 kg, and number of wings is maximum 16. Low sill may be obtained for internal installation.
Accordion doors are designed for larger rooms, where large passage (e.g. from a room to terrace) is obtained after the door wings are opened (folded).
---
Technical data
| | |
| --- | --- |
| Frame | glued wood, cross-section 45x157 mm, aluminium liners. |
| Wing | three-layer glued wood, cross-section 68x80 mm, aluminium liners |
| Fittings | Centor, low-sill aluminium rail |
| Colour | standard (white, brown RAL 8016, teak, dark oak, dark sipo, mahogany), possibility to choose any colour from RAL palette or another transparent colour |
| Surface | glass panel packets (glued glass panels), thickness 24-32 mm, coefficient U=1,0 and less, possibility to choose glass panel packets of higher resistance to robbery and decorative, reflecting or safe ones, as well as stained-glass panels, and many others |
| Crossbeams | inter-panel crossbeams, 8-45 mm wide, glued and Vienna ones 20-45 mm wide, structural crossbeams, width from 55 mm |
| External dimensions | according to the range and scheme of fittings used (maximum wing size is 1000x3000 mm and 1000x40000 mm). For Eko systems, the wings open outside only |
---
List of intermediate products and fitting components used.
Pine or red meranti wood, eucalyptus. optionally: oak, larch, Canadian cedar, etc.
Aluminium liner from ALURON.
Water soluble paints from GORI.
Profiled rebate gasket.
Neutral silicon to seal panel notch.
Centor fittings.